I liked the idea of the papercraft 'Raspberry Punnet' cardboard casing, and it struck me it might be fun to make a BBC Model B style case.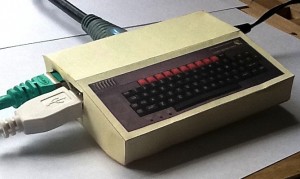 Yes, it's a colossal waste of time. But once the itch was there I had to scratch it. If anyone else wants to make one, print this PDF
I'm sure the design can be improved, I knocked it up with OpenOffice, so if you want to have a crack at making it better, download raspberry_pi_bbc_case.odg.
Enjoy 🙂

Papercraft BBC Micro case for Raspberry Pi by Paul Dixon is licensed under a Creative Commons Attribution-NonCommercial-ShareAlike 2.0 UK: England & Wales License.
Keyboard and rear images are perspective corrected public domain images from Wikimedia Commons