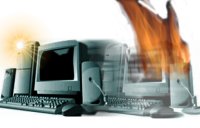 Been a bit lax in attending the Hertfordshire Linux User Group meetings of late. Finally made it last night and gave a talk on virtual machines which I'd been promising since December. I mainly concentrated on the free VMWare Server, since I use it for day-to-day development, but others made mention of their experiences with QEMU and the intriguing EasyVMX which allows online creation of virtual machines for use in VMWare Player.
The image above was a hastily constructed graphic illustrating how a destroyed virtual machine could be quickly replaced with a backup snapshot, which I demonstrated by performing an "rm / -Rf" on a virtual machine, which was fun.
The talk seemed to go down well anyway, and I hope to become more of a regular attendee!