The CSS Zen Garden site is a fantastic demonstration of what CSS can do. A few days ago I found myself with a few hours to kill while waiting for my car to be repaired, and while browsing a bookshop came across a book about the site – The Zen of CSS Design
The book takes a selection of Zen Garden designs from a variety of designers, and walks through the process they took while covering any neat CSS tricks that were pulled off to achieve the end result.
It's a pleasure to read, with a nice layout and feel to it, and chock full of useful followup links on the techniques demonstrated. Highly recommended!
Yet another of my never-ending side projects for Geograph has been reworking the UI, and I'm hoping to ensure the XHTML has enough "hooks" to enable other designer to easily come up with alternative stylesheets.
Anyway, here's my current effort so far.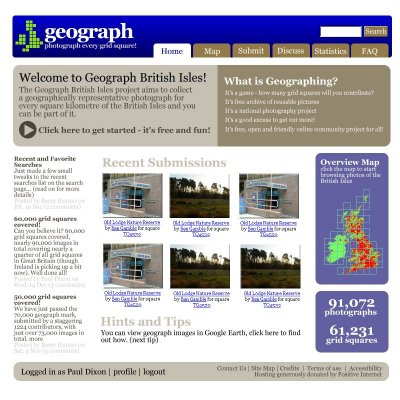 Web-2.0-a-licious, no?